Who we are
This page was created using the Gutenberg block editor. You are looking at a cover block. When cover blocks are set as full width, full height and the first element on the page, they can be used as hero elements.
Our Story
This content is located inside a columns block. The left column spans two thirds of the page width while the right column spans one third. On mobile devices columns stack under each other.
Duis quam dolor, elementum at pulvinar vel, efficitur nec magna. Donec a malesuada purus. Proin commodo diam neque, eget posuere lorem tincidunt vitae. Pellentesque at eleifend erat. Donec vehicula tortor ut magna facilisis, sollicitudin commodo diam convallis. Nam posuere tristique sem vel eleifend.
Ut in ligula nec elit interdum mollis in non quam. Nulla interdum, ipsum sed tempor tincidunt, tortor quam blandit elit, non cursus velit est lacinia tellus. Nulla magna risus, rutrum eu ipsum et, dapibus tempus nulla. Proin ut justo sit amet nibh pharetra venenatis eget quis est. Donec varius, ante eget aliquam pharetra, turpis tellus pellentesque urna, vitae elementum erat massa a mi.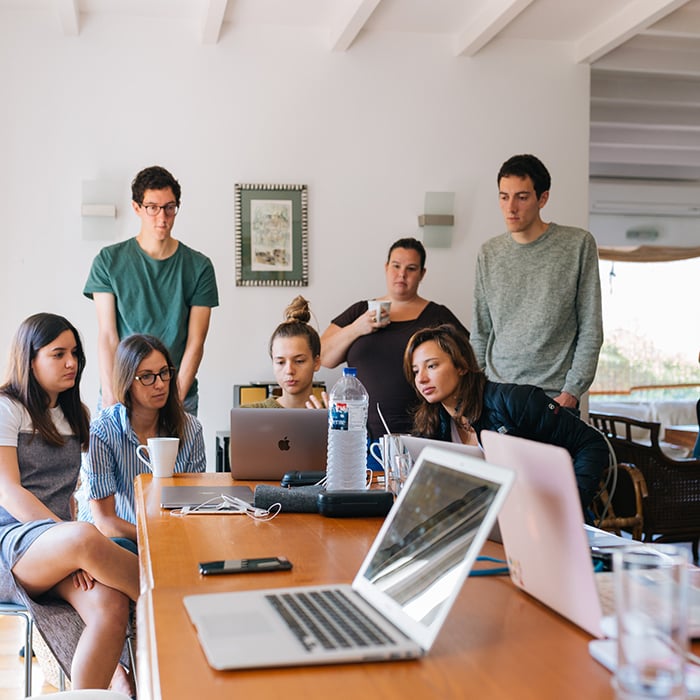 Just another day at the office…
Our Mission
Sed commodo diam eu risus ultricies, eget eleifend urna venenatis. Nulla facilisi. Phasellus eget turpis vitae orci elementum dignissim.
Our Vision
Maecenas scelerisque orci et luctus blandit. Integer elementum eleifend mauris, et egestas sapien aliquet nec. Cras ultricies laoreet quam.
Our Values
Mauris posuere eleifend purus, sit amet porta quam accumsan vitae. Nam vehicula, magna id ullamcorper velit magna pellentesque.
Company Culture
This is a Media & Text block. Useful for when you want to showcase something visual while offering an explanation on the side. Works great with videos.
Phasellus convallis lectus quis leo malesuada fermentum.
Maecenas fermentum lectus et lectus finibus aliquet.
Nullam ultricies sapien id arcu consequat lobortis.
Phasellus vitae pretium tortor.
Meet the Team
The avatars below are squared images with the rounded styling applied.
How would you like a seat at our table?
This is a cover block with fixed background and call to action.
Get in Touch with us
The contact details below have been added using Jetpack's Contact Form and Map blocks.
Use the contact form below to send us an email. We will try to get back to you as soon as possible. Alternatively, use the information to the right to give us a call or visit our office.
1500 Market Street
San Francisco
,
California
94105
United States